Milwaukee's Finest
by LA Tucker © September 2001
Laverne, noting how positively breathtaking Shirley was looking in the poodle skirt that so nicely accentuated her shapely ankles, took in a deep, nasally breath before she whispered, "Now put BooBoo Kitty to bed, Shirl, and let me show ya a little about 'rockin' and rollin' "
Shirley gasped, and hugged the stuffed cat tighter to her. "But Laverne, I thought we were going to do our hair tonight ..."
Laverne straightened up, her ample bosom suggestively heaving her embroidered 'L' into Shirley's wide, but lustfilled eyes. She droned on sexily, "Oh, c'mon Shirl, bring the 'Dippity Do' with ya, you know I like it when you ..."
BooBoo Kitty was tossed carelessly aside, and before Laverne could take another whiny breath, Shirley was on top of her tighter than a cap on a bottle of Shotz Beer.
---
Doubtful if it will ever be continued. <g>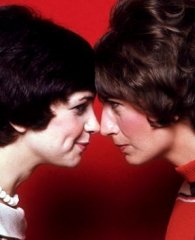 There IS L & S fanfiction! (Imagine that!) The Laverne and Shirley Fanfiction page at Squeakyland.